Are you familiar with ChatGPT, the trendy AI tool? This tool has revolutionized the digital world and is being used in a variety of professional fields. Its popularity is so high that Finbold News reported it had a score of 92 in global Google searches.
Stories such as the man who wrote a children's book or hackers creating malware using ChatGPT inspire us to learn more about its operation, its reach and everything behind this AI developed by OpenAI. ChatGPT is capable of processing and understanding natural language efficiently, making it a valuable tool for a variety of applications.
What lies behind the AI that is revolutionizing the digital world? In an exclusive interview with the same tool, we will delve deeper into its understanding, logic and abilities to answer the doubts we all have.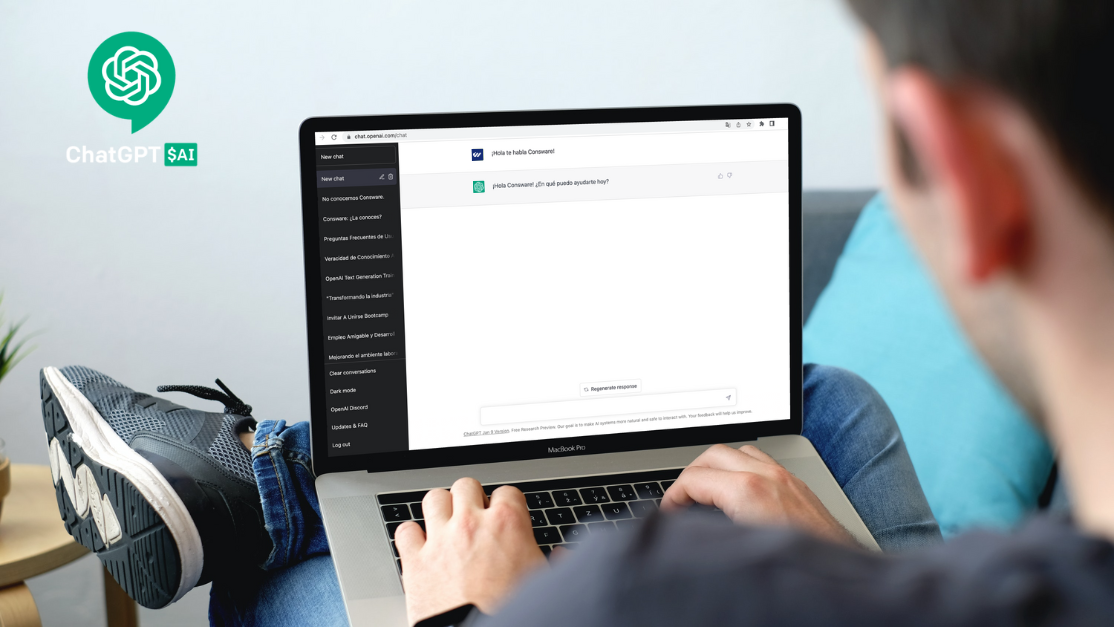 -How were you born?
CG: –The project began in 2018, when a team of researchers and developers at OpenAI began working on a way to improve the natural language understanding of computers.
To achieve this, the team trained me on a large amount of text available on the internet, using a technique called "transfer learning" so that I could learn to generate text in a similar way to how a human does..
-Why can you answer questions from all fields?
CG: – I was trained with a large amount of text from the internet, including information from different areas of knowledge. However, it is also important to note that I can make errors or not have up-to-date information.
– Where does that amount of data come from?
CG: – It comes mainly from websites and online resources, such as news articles, e-books, blogs, and online forums.
-How was the above mentioned collected?
CG: – By using web scraping programs, then processed and labeled for my training use.
Does your knowledge have expiration date?
CG: Yes, it has a cutoff date, meaning it was updated to a specific date, and some information may no longer be valid or have changed since then.
What is the cutoff date?
CG: – My knowledge was updated until 2021.
–What is your greatest difficulty?
CG: – Understanding the context and intentions of questions and answers. I may also have difficulty understanding poorly formulated or ambiguous questions or instructions.
What are you doing to solve it?
CG: – Researching new natural language processing techniques and improving my ability to generate high-quality text.
It makes me a bit curious to know what is the question that is most frequently asked?
CG: – The question I am most frequently asked is "How can I do such a thing?" I'm also asked about general topics such as definitions, historical facts, and technical explanations.
– What field are most of them?
CG: – Technology and programming
- What abilities does a human have that you don't have?
CG: – I don't have consciousness or the ability to perceive the world in the same way as a human. Humans have the ability to have emotions, make decisions, and have a self-awareness and awareness of their environment, which I do not have.
- So humans have an advantage over you?
CG: – Humans have unique skills and abilities that differentiate them from computer programs like me, such as consciousness and emotions. However, I can process large amounts of data and perform complex calculations much faster.
– How does a company get into your database?
CG: – My database is composed of information found on the web and coming from a large number of sources, including websites, articles, books, and other online publications. A company may not be included in my database if it has not been mentioned frequently enough in the sources that I have processed.
– A recommendation for those who have companies: How do you manage to appear in these sources?
CG: – There are several ways in which a company can appear in the sources that a language model like me uses to obtain information, these are some of them:
Create relevant content for your industry.
Be mentioned and participate in media interviews. 
Use social media to promote your content.
Participate in relevant events for your industry.
Participate in online communities.
Like us, are you impressed by all the capabilities of this tool? At Consware, we also specialize in Artificial Intelligence and digital transformation. Contact us here and see what we can do for you! Consware we also specialize in Artificial Intelligence and digital transformation. Contact us here and see what we can do for you!